New Contender: Jasper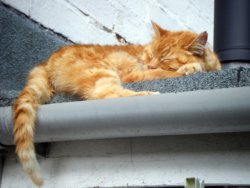 Name: Jasper (Identity confirmed)
Agility – 8/10

Jasper lives on a shed. Getting on top of a shed requires agility therefore Jasper is agile. It is a simple equation that is old as sheds (the word shed came into common parlance in 1481, Jasper is not that old).

Health & Vitality – 7/10

Look at his fluffy coat, that's surely a sign of health isn't it? We've lost track of whether we like long haired cats or not. Apparently the vet thinks he is in excellent condition. Well the vet should know, having skills in cat physiology that we can only dream of.

Home invasion – 0/10

Jasper's "visiting" is frankly rubbish. We never see him out and about he seems to make no effort to get into other houses. Though does that mean he is so stealthy that we just haven' t noticed him? No, he's rubbish.

Meow – 8/10

This is a rarity, Jasper bearly shuts up. We've heard him, sitting in the street banging on about God knows what. Based on these antics we've seriously considered re-evaluating the concept of this category and penalising the meow. On balance we decided that this would be rash.

Fighting Ability – 5/10

Although Jasper bears the scars of battle we don't think he's very good at it.  Apparently he once fought Edward for dominance of the shed. Can you imagine that? What a battle, we think it must have been like Gladiators, not that recent rubbish from Sky but proper Gladiators when Wolf was  in it.

Overall cuteness – 7/10

He is cute, especially for an old cat. Hoovering up after him must be a pain but that has no impact on how cute he is.

Friendliness – 3/10

He gets on very well with other cats but that's not really the point. This is about how he gets on with humans (or catfood monkeys, that came from Jasper's owner, we like that a lot).

Dignity – 6/10

From his humble beginnings he has developed a quiet dignity. Well not a quiet dignity as he is unrealistically noisy. He was born under a shed in Balsall Heath, apparently. In cat terms this is literally the worst start in life you can have. It does explain his preoccupation with sheds.

Intelligence – 6/10

He values the high ground, that's pretty clever.

Remaining lives – 8/10

I'm sure Jasper won't mind us mentioning this but he is old. Very very old (we don't know this for a fact but it sounds fairly convincing). He started his life, unwanted, under a shed. Now he owns his own shed. This is a genuine rags to riches story that warms our heart.
Summary: 58%
A good score for Jasper. It just shows that getting a bit of life experience under your belt makes all the difference.