New Contender: Edward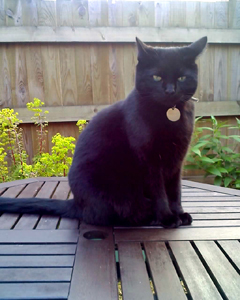 Name : Edward (Identity confirmed)
Agility – 8/10

Although Edward has clearly been seen to jump over a fence and even through a window some say he is carrying a bit of extra weight at the moment.

Health & Vitality – 10/10

Clearly a very healthy cat as indicated by his very shiny fur. Mad stary eyes could indicate some mental health issues but these cannot be confirmed.

Home invasion – 6/10

Although Edward will wander around any garden he isn't much of a visitor. At least as far as we know.

Meow – 2/10

If our scoring system could accommodate no points then Edward would get them, but it can't. Quite frankly his vocal ability is pathetic.

Fighting Ability – 4/10

Edward is not really much of fighter. Some would say it is because he gets on so well with other cats. We know this isn't true. He's actually a bit gay. Not that we are saying that gay cats can't fight. He is also obviously terrified of his nemesis Bob.

Overall cuteness – 10/10

Clearly he is cute. Anyone with eyes will tell you that.

Friendliness – 10/10

Can a cat be too friendly? Let's assume not and give him all the points.

Dignity – 6/10

Is dignity rolling around on your back asking passing strangers to tickle you? We've tried it and were treated with appropriate contempt. Edward has been duly marked down for his lack of etiquette.

Intelligence – 4/10

This cat is stupid. He can be regularly found licking the pavement. There is no nutrition in concrete.

Remaining lives – 6/10

As far as we know he has had no real brushes with death. Other than being abandoned once and having a bit of scrap with Bob. Neutral points.
Summary: 66%
A surprisingly average score for a really good cat. Generally brought down by his complete lack of voice and not being very tasty in a scrap.