New Contender: Spike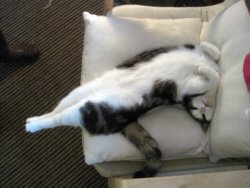 Name: Spike (Identity confirmed)
Agility – 3/10

We just don't know. No fascinating anecdotes or adventures mean that we have to be cautious.

Health & Vitality – 5/10

Spike's not much more than a kitten. They're all healthy, except the sickly ones that pander to Darwin.

Home invasion – 7/10

As Spike was discovered in a park (in Balsall Heath no less) he does have a hint of the vagrant about him. This is a good thing, it means he can take care of himself.

Meow – 3/10

Again we don't know. He doesn't look like  a noisy one but it is so hard to judge these days.

Fighting Ability – 8/10

Now we're talking. Spike has tried to eat a child by starting with their hair. We weren't there but we do have an image of Spike dangling with a mouthful of hair. Obviously Spike will learn, over time, if you want to eat a child then start with their feet so they can't run away. Spike has also got into a fight with a dog and punched a man in the face. We do know that the dog in question is a bit dim but it is a natural predator so fair play.

Overall cuteness – 4/10

Is that cute? We don't think so. Yes, we can see Spike can do the comic position but a kitten needs to go that little bit further.

Friendliness – 3/10

Punched a man in the face. THAT'S THE OPPOSITE OF FRIENDLY.

Dignity – 4/10

Is dignity lying prostrate on your back doing an impression of rabbit? Not it isn't.

Intelligence – 7/10

Spike spends much of his day laying elaborate traps so he can jump out on people, children and dogs. This isn't the natural instinct of the hunter but rather a carefully constructed homage to the films of the late Peter Sellers.

Remaining lives – 8/10

Having been born on quite literally, the wrong side of the tracks, Spike has found a loving new home which he has systematically abused and terrorised. Some would say this isn't the most shrewd move but it is breathtakingly bold.
Summary: 52%
We can't help feeling that Spike might have done better if we'd known more about him.