Emergency: Ruby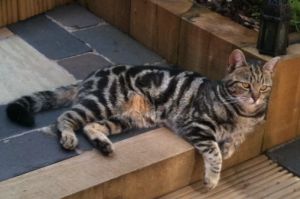 Fortunately it's been quite a while since we've heard about a cat going missing.
Unfortunately it looks like Ruby has gone missing. As you can see from the picture Ruby is both quite small and quite cute. A dangerous combination when you're a cat out on your own.
She lives right in the centre of Moseley, around the Farquar Road, Leighton Road and Tudor Road area. We know her well her enough to say hello to and she is a very nice cat.
She's been gone a few days so it's likely she has gone to have a sleep in a shed or is trying to live in another house for a bit.
So check your shed, and if you do happen to be living with a cat you don't recognise then let us know and we will let her worried owner know.
Contact us through the comments below of via emergency@meowseley.co.uk