Beauty's Alive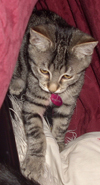 Surely we can't  be  the only people who'd come to the conclusion that this wouldn't end well. In fact for months we'd been telling anyone willing to listen that little Beauty had obviously been eaten by a fox.
It seems that she is in fact alive and well and living in Sparkbrook (apparently it was Sparkhill, we thought they were the same place). She even has her own kittens.
The quote from John Hemming, in relation to Beauty's current living situation, appears to make little sense:-
"I went to see the cat last night and indeed it was Beauty. We, however, think that she is feeding kittens at the moment so she has been returned to the lady who had kindly looked after her for a year so that we can try to track down the kittens."
And Mr Hemming added: "It seems that Beauty has been looked after by two households at the same time. I think one of those households also has her kittens (more likely than they are outside).
"We need to track down the other household that is looking after Beauty. If they have her and a litter of kittens I would not be surprised if there was some form of arrangement we could come to. In any event I don't want to take her away from her kittens. (If indeed there are kittens which I think there are)."
But confusion seems to have been a fairly consistent part of this entirely sordid affair.
Obviously some would question the coincidence of Beauty rolling up the day after Christine Hemming was sentenced for her theft, but knowing how notoriously publicity shy all parties have been throughout this story such suspicion would surely be misplaced.
The most important thing is that Beauty is alive and maybe, one day, we'll get to review her. We are considering inventing a whole new scale to accommodate her.