Emergency: Beauty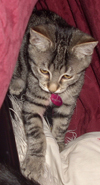 Anyone who has paid attention The Birmingham Mail today will have heard about the plight of Beauty the kitten. Whilst we will admit a passing snigger at some of the frankly bizarre details we are concerned that Beauty still doesn't seem to be at home where she belongs.
We think this means that people of Moseley must do what they are best at…… finding a missing cat. You know what you need to do , check boxes, disused cars and fridges.  Beauty must be found.
If you find her then pass details on here. There's a reward apparently.