New Contender: Stuart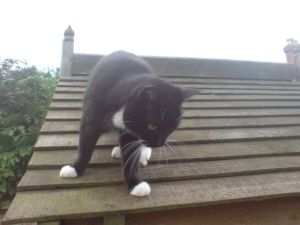 Name: Stuart (Identity confirmed)
Agility – 9/10

We're not going to insult your inteligence here. Stuart is clearly agile. He's on a bloody SHED.  How did he get up there? We don't know but we're willing to bet cold hard cash he didn't use a ladder.

Health & Vitality – 5/10

This doesn't look like a good score and we're certainly not trying to imply that Stuart is in any way manky. We understand that Stuart has got himself into a number of scrapes over the years including getting trapped in a….. trap and getting chased by a Big Dog. On the other hand he looks a lot younger than his quite respectable seven years.

Home invasion – 7/10

Stuart was once found innocently sitting in the window of someone else's house. He hadn't been stolen, oh no. He'd just gone round to have a bit of sit and a look about. A truly bold cat.

Meow – 5/10

We only have basic intelligence with which to assess Stuart's meow. We don't feel that a friendly trilling sound really demonstrates much in the way of quality. We do acknowledge that a cat snoring is very cute but not entirely appropriate for this section. It is the meow section and not the "noises that cats make section".

Fighting Ability – 6/10

Clearly Stuart didn't do very well against the Big Dog but as they are the cats natural predators that is only to be expected. We have seen photographic evidence that Stuart is willing to stand up to any number of cats but we've not seen him actually hit anything. We are minded to believe that Stuart could be "all talk".

Overall cuteness – 10/10

He's really really cute. Probably one of the cutest little blokes that we have had the privilege to assess. It's been a joy.

Friendliness – 7/10

If you ignore him he'll shove his arse in your face. Now in polite human society this is the sort of behaviour that would get you on a register but we've been reliably told that this is a sign of friendliness in cats. They're odd creatures.

Dignity – 2/10

Stuart lets his owner turn his ears inside out so he looks like Yoda (Stuarts ears, not his owners. If his owner wanted to turn his own ears inside out then we doubt Stuart could stop him. He's not big enough).

Intelligence – 4/10

Stuart believes all doors have catflaps in them. They don't. In fact very few do.

Remaining lives – 8/10

Stuart has certainly been about. We don't want to bang on about the Big Dog yet again but it must have been quite traumatic. He's also lived in Scotland. We're not sure if this would pose any inherent danger but we will reward him all the same.
Summary: 63%
A very good score for Stuart. We really like him and we're not just saying that because he's the first cat to turn up for what seems like months (it is months). Well done Stuart, keep it up.