New Contender: Honey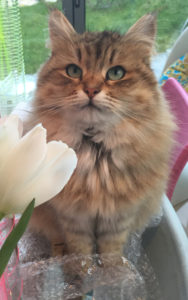 It's time to get back to it. We've had three years off and there are a lot of cats that need reviewing. Let's judge them.
First off we present Honey. We've studied Honey, we've shared a laugh with Honey, we've built a bond with Honey. We feel this is the most objective assessment Honey will get. We hope she will use it to inform her continued development.
Agility – 6/10
She may not look like she's made of springs but she's no stranger to the giddy heights. On her days off she can be found lying about on the roof of her own personal shed. It's not like there is a ladder she can climb up, no, straight up and in off the fence. Deft.
Health & Vitality – 6/10
This is a tricky one, she's a good size, or at least we think so. It's hard to tell because she is ridiculously hairy. For all we know she might be tiny under there. Though that means she would be carrying around a massive rug so that means she must be strong. But really, long haired cats, what's that all about? It's an evolutionary dead end. In an age of central heating there is no need for cats to have long hair anymore.
Home invasion – 10/10
We once found her sitting at the end of our bed. She doesn't live here, which was the first thing we pointed out to her. She took this on board, with some grace, and made her excuses and left. All very reasonable, but bold, very bold.
Meow – 9/10
You know the sound of a cat's meow is like an angel tickling your heart? Well Honey has one of the most sonorously pleasing meows we've ever heard. In fact you can hear her coming for miles. She'll happily bob along next to you with a "meow, meow, meow, meow". To be honest, sometimes it gets a bit much. One point deducted for verbosity. Less is more Honey, less is more.
Fighting Ability – 0/10
Given that Honey lives in the cat equivalent of Syria she imperiously avoids the incessant fighting. We've never seen her have anything like a scrap but have seen her leg it on numerous occasions. Whilst that might be good for the moral high ground we judge on raw animal instinct. Oh, yeah, the shed we mentioned above. It's not really a shed, it's full of chickens. She doesn't try and eat them, she just sleeps on them. It's not natural.
Overall cuteness – 9/10
Her face is like a shiny button. Possibly the cutest. She also trots along. You know like that horse dancing they have in the Olympics? Just like that. It would be great if they had cat dancing in the Olympics. If they did then Honey would win it easily. If she did win we'd be all like "Honey you're the best cat in the whole world at cat dancing" and  she would be all "meow, meow, meow, meow, meow" and we'd be like "Give it a rest Honey, it's not all about you."
Friendliness – 8/10
Everyday she's the first one to ask how your day's been. It's entirely  possible she isn't listening to the reply, but come on, she makes the effort.
Dignity – 5/10
Sometime ago she did use her spectacular hairyness to go through a bit of a dreadlock phase. It was a bit embarrassing really. You remember in the 90s when all your friends refused to wash and listened to Mudhoney all day? Yeah a bit like that. Fortunately she got her hair cut and reignited her sparkle.
Intelligence – 5/10
We genuinely don't know about this. In the picture she is playing with bubble wrap and that's a good indicator that she can impose rational perspective on objects. Most cats consider bubble wrap a mortal enemy. Does that mean she's intelligent or stupid? We're going to sit on the fence.
Remaining lives – 7/10
Honey recently went missing. After a full on Crime Watch appeal she was found safe and well but tight lipped about where she had been (well as tight lipped as Honey is on any subject in that she hasn't stopped banging on about it). Was she in a shed? Did she take a Yodel van to Peterborough? We'll never know.
Brexit? – Yeah, probably. Sorry, she seems the sort.
Summary: 65%
Get in there. That's a massive score for a cat that can't be bothered to fight. If she can just up her martial skills she'd be formidable.