New Contender: Lucy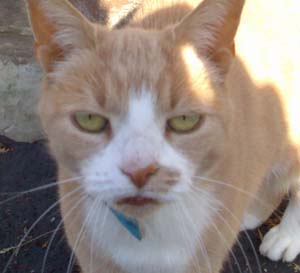 Name : Steven Lucy (Identity confirmed)
Agility – 6/10

We've seen him sit on a wall once or twice but that's really as good as it gets with Steven Lucy.

Health & Vitality – 2/10

Nobody is ever going to accuse Steven Lucy of looking that healthy. He She is better than he she was but frequently looks like he she might die.

Home invasion – 2/10

Steven Lucy is never going to be a cat burglar (you see what we did there). He'll She'll stop you in the street but is very aware of his her boundaries.

Meow – 10/10

Steven Lucy has a brilliant meow. Probably one of the best we've come across. Bumping into Steven Lucy is a pleasure because sometimes it seems like he she can talk. He can't talk but he she tries his her best.

Fighting Ability – 2/10

If you're looking for a cat to have a fight with you want to start with Steven Lucy. He's She's rubbish. In mitigation we think he she is probably above all that sort of stuff but the criteria are the criteria.

Overall cuteness – 4/10

It's difficult to say whether or not Steven Lucy is cute. He She looks scrawny and ill but his her eyes demonstrate a fundamental understanding of what it means to be a cat. We've given him her a low score anyway because we're cruel like that.

Friendliness – 8/10

Steven Lucy is a genuine cat that wants to be your friend and really likes to listen to what you've been up to.

Dignity – 2/10

I'm afraid he she just doesn't have any dignity. He She talks to anyone and always looks a little bit pleading. We still don't know if he she has anywhere to live so being potentially homeless could go someway to justify his her needy air.

Intelligence – 2/10

We certainly wouldn't give him her a Rubiks cube to solve. Steven Lucy does nothing to change the tired old stereotpye that cats are stupid.

Remaining lives – 6/10

If not eating properly is cheating death then Steven Lucy has done it. It could just be a lifestyle choice but somehow we doubt it.
Summary: 42%
We're not surprised that Steven Lucy got such a low score. We like him her immensely but there just seems to be something a little bit wrong with him her.