New Contender: Truffles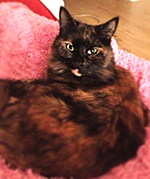 Name: Truffles (Identity confirmed)
We need to apologise to Truffles in advance. We have virtually no information to go on at the moment so this review is, at best, limited; but we haven't reviewed any cats in a while so let's go wild and judge her based on pure conjecture.
Agility – 8/10
Truffles likes to drink from the toilet, leaving aside the obvious hygiene concerns this indicates an element of agility. What we don't know is if Truffles lives in a house where they leave the seat up or not, this is vital information as it would give us a better sense of the width of the ledge she uses for balance. Having said that we're in the cat reviewing business not the nosey toilet business so we thought it better not to ask.
Health & Vitality – 8/10
Shiny eyes? Tick. Furry coat? Tick. What isn't healthy about Truffles? Nothing that's what. She's a great example of a living breathing cat.
Home invasion – 9/10
We don't really know whether or not she visits other houses. We do know that she's basically a thief, you might think those are strong words, they are, and we stand by them. If Truffles ever finds a bag with the slightest opening she's straight in there going through your stuff. No principles, all property is theft as far as Truffles  is concerned. Fair play.
Meow – 4/10
Whilst we're not sure of Truffles general ability to meow we do know she cries if she is caught doing something wrong. This isn't meowing it's basic whining and you don't get points for that in this system.
Fighting Ability – 4/10
She finds spiders, she chases spiders, she doesn't kill spiders. Many cats don't really understand spiders, Truffles does understand them and is willfully doing nothing about them. It is more than likely that one of the spiders she sees as some sort of game will eat one of the humans she lives with, what will she think then?
Overall cuteness – 7/10
Yeah, she's cute. She's got her own towel, it doesn't really contribute to her being cute and it's not relevant to this process but we didn't know where else to mention it.
Friendliness – 6/10
We don't really know if she is friendly or not. We know she will curl up in a little ball if she has been found guilty of abject wrongness. You can't really equate contrition with friendliness.
Dignity – 2/10
We were hardly going to let the toilet drinking go were we? She also likes to skate about on wooden floors,  well that's fine if you're Tonya Harding but it isn't really the sort of behaviour from a dignified cat.
Intelligence – 9/10
The fact that she cries raises a number of issues, obviously we know she is prone to frequent acts of wrongness given her kleptomaniac tendencies, but she has a basic understanding of the basic principles of right and wrong. Cats, generally, aren't very good at taking on board philosophical concepts.
Remaining lives – 3/10
Absolutely no idea. The sort of cat that has it's own towel has probably led a wantonly pampered life. We're not giving points for that.
Summary: 60%
Well, what do you know? That's a good score Truffles. A little more effort with poise and dignity and we could be looking at one of the greats.