New Contender: Mr P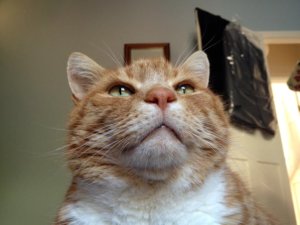 Name: Mr P (Identity confirmed)
CAVEAT – We have nowhere enough information to carry out this assessment. We have no facts.
Agility – 2/10

We think his on-going battle with weight issues are going to impact on his ability to get about. We don't know this for a fact but we've been in cat assessment business for quite a while now. We understand that he is capable of getting over the "back wall" but this is more than likely driven by the whiff of a spare dinner.

Health & Vitality – 1/10

This is one of the lowest scores we've given a contender. Mr P was once featured on the BBC website as some sort of "fat cat" (picture number 5), this doesn't mean that his excessive bonus and tax avoidance has led to the financial apocalypse. No, it means he is quite literally a cat that is fat. He spent some time visiting the obesity club run by the vet, we're not ones to criticise vets but running clubs for cats is a stupid idea. They're not very good at joining in. If there was such a thing as cat diabetes then he is surely a candidate.Well what do you know? Apparently there is such a thing as cat diabetes but one of the symptoms is weight loss. I think we've all learnt something here.

Home invasion – 5/10

We know Mr P visits a neighbour and once lost his collar down the road. Sorry they're not the most gripping stories.

Meow – 8/10

Every morning Mr P wakes his owners up with a meow. We love this, not only is he vocalising but he's providing a proper public service. Like a furry cockerel.

Fighting Ability – 4/10

Not much to report. He is covered with scratches which would indicate that he's not that good at fighting. We would hazard a guess that other cats haven't been overly successful at getting his lunch money off him. He is also known to bring twigs home. Twigs don't really fight back, much.

Overall cuteness – 6/10

Fair enough, he's a big un, but we like him. He's got a nice face.

Friendliness – 7/10

Every day he won't let his owners go to bed until he's had a hug. How unbelievably great is that? Doesn't that just make you think that everything is alright with the world?

Dignity – 4/10

Hmmm, sleeps in the mud. We don't like this. That sort of behaviour is fine for a hippo who gets a practical benefit from sleeping in mud, but it isn't suitable for cats.

Intelligence – 3/10

Not a  great deal to go on here. Catching twigs isn't a great sign of intelligence.

Remaining lives – 8/10

We're a little surprised that Mr P is still alive. The picture on the BBC site was taken FIVE years ago. Looking at him then you wouldn't have put money on him having half a decade left in him. But he's made it and this is something we should all give thanks for.
Summary: 49%
We know we haven't done Mr P justice. We don't know what we don't know, but we do know that there a great deal more things to know, about Mr P.