New Contender: Brown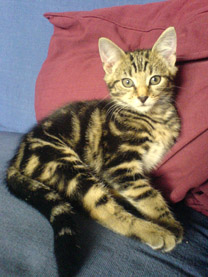 Name: Name: Brown (Identity confirmed)
Agility – 7/10

Brown can climb on top of clothes horse. This is good, both agile and a little bit cheeky. We can imagine a cute picture of Brown on top of some washing looking quite cute, maybe with a poorly spelled caption highlighting the incongruous nature of a cat on a clotheshorse. It could work, maybe like a meme or something.

Health & Vitality – 8/10

We have to admit that our intelligence is horrifically out of date. We had been led to believe that Brown had only ever thrown up once, ever. If Edward's throwing up tendency is any barometer of cat health then we think Brown must be some sort of super cat with a constitution made of steel.

Home invasion – -/10

We just don't feel able to score this one. Brown may have never been involved in breaking and entering back in October when we supposed to have written this but surely that has all been sorted out now, hasn't it?

Meow – 6/10

Brown has a meow and uses it to good effect. Somewhat sparingly but you can have too much of good thing.

Fighting Ability – 5/10

When it comes to fighting Brown tends to keep it in the family. She fights with her uncle, Grey (there is a convoluted family tree here that we have to admit we don't really understand). Grey is also a kitten so there is an inevitable points reduction. We're sorry but there are not many points in beating up a kitten. We could do it and we'd probably only need one hand.

Overall cuteness – 6/10

You all know where we stand on the whole kittens being cute thing, well interestingly we don't think Brown is that cute. She's alright but there's something wrong with her eyes, it looks like malice.

Friendliness – 5/10

Everyone knows that Brown isn't as friendly as Grey. So she's got less points, oh and we think she's a bit malicious.

Dignity – 4/10

We haven't got a lot to go on here but it is extremely unlikely that Brown is dignified. Not if you give due consideration to the previously stated washing related antics.

Intelligence – 6/10

Brown is probably intelligent. Certainly the look of disdain in her eyes indicates some sort of thought process.

Remaining lives – 3/10

Brown is only just beginning her journey through life. Unfortunately as recent events have so tragically shown us this is not a reliable metric of a long life. We've added an extra point because we're sentimental old sods.
Summary: 50%
Now 50% looks like a rubbish score but hang on a minute. You remember we left out a score didn't we? Oh yes, there are another ten points up for grabs which could launch Brown into the catosphere. We freely acknowledge that if Brown is expecting to get 10 points in home invasion she'd have to hold a family at gun point. We don't expect this to happen because any family held hostage by a kitten would be a pretty crap family.