RIP: Yoda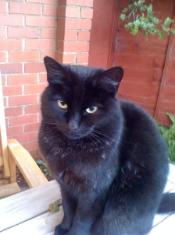 Unfortunately we need to let you know that Yoda has died.
Yoda got a good score due her brother being kidnapped by an Eagle. We still shake our heads in wonder at this.
It seems that Yoda was hit by a car and didn't recover. We'd known, fleetingly, that she had gone missing unfortunately too late.
We didn't actually meet Yoda but she will be remembered as a one of our favourite cats.