Emergency: Doctor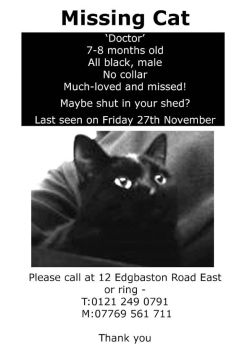 We feel quite guilty about this. We don't know where he is or anything like that, oh no.
Someone did mention to us a while ago that Doctor had gone missing but we completely forgot about it.
As you can see from the poster Doctor is quite young so natural curiosity might have encouraged him to go and live with someone else for a bit. If you know where he is please let his owners know. They do want him back.
Edgbaston Road East seems to be where we need to be concentrate our efforts. Maybe you could combine a bit of a look about with a trip to Lidl or the Diwan.
If you see him then please let us know at the usual address, emergency@meowseley.co.uk or even leave a comment here.