New Contender: Alfonso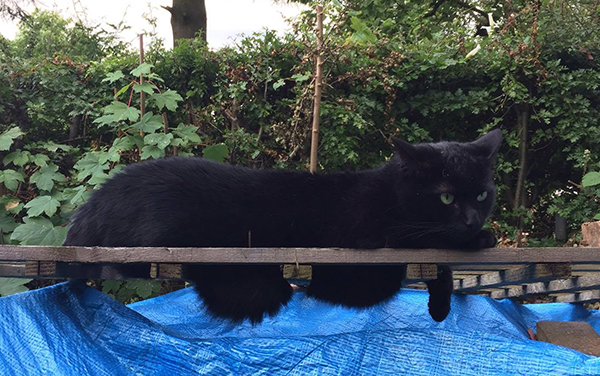 Here we go, Alfonso (Identity confirmed). He's a big one.
Agility – 4/10
Don't be fooled by the casual use of building materials as a bed. Alfonso isn't made for the outdoor world. He can't walk along a fence without looking like an arse. He can't even climb a tree properly because it scares the willies out of himself. He's delicate.
Health & Vitality – 7/10
With nostrils like tiny tunnels Alfonso is worryingly efficient at absorbing oxygen. As anyone knows the key to efficient cardio is optimising breathing.
Alfonso is described as having a "swinging belly". This is a mistake made by many amateur cat enthusiasts. The swinging element is actually made of prominent tummy pom poms. These are entirely natural and a sign of a good healthy cat.
Alfonso once spent a day on Ketamine. Most of that day involved downing pints of water and then throwing it all back up again. Don't be too harsh on him, we've all done it.
Home invasion – 2/10
There is little or no evidence to back up any sort of skill at breaking and entering. We know he can crawl about on his own flat roof but at the end of the day who cares? It's other people's roofs we care about. We also know that another cat sneaks in and steals his dinner. Not even defending your own territory is obviously heavily penalised.
Meow – 6/10
Most of his vocal ability is focused on setting out his need to be rescued from whatever ill conceived adventure he's set himself onto. Be that getting stuck up a tree or…….. actually the tree thing is the only adventure we know about; but that doesn't matter, in this category the reason for making a noise, however humiliating, is secondary to the quality of the noise.
Fighting Ability – 5/10
His "friend" Hector comes round for dinner quite regularly. Don't be a twat Alfonso, he's not your friend, he's bullying you. Punch him in the face.
He once caught a fly and ate it. He then caught a spider. We can see where this is going and history tells us that it doesn't end well.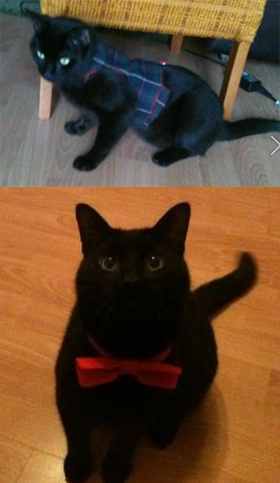 Overall cuteness – 10/10
Look he's got a little jacket on. What's that? Is it a bow tie? Quite the little gentleman.
Friendliness – 5/10
Going with a neutral score as we genuinely don't know. He clearly likes the finer things in life, expensive clothes, quality drugs and big eyes but is he friendly? We don't have a clue.
Dignity – 0/10
Look he's got a little jacket on. What's that? Is it a bow tie? Behave.
Intelligence – 4/10
Quite happily tolerates getting shot in the face with a Nerf gun. That's fine, sometimes you have to put up with these sort of things. He then takes the Nerf bullets back because he just can't get enough of that stuff. Idiot.
Remaining lives – 8/10
He's diced with death, he's been up a big tree, he's been ripped to the tits on drink and drugs. He's still here. We also can't remember how this category is scored anymore. Do they have to have had many brushes with death or none? We don't.
Brexit? – Of course not. He's a cosmopolitan cat with an internationalist outlook.
Summary: 51%
Oh this is awkward. There's not really many ways of putting this other than saying that is a weak score. It's the jacket that did it. That does mean there is plenty of room for personal development.